Johannesburg, 11 March 2020: The inaugural Business Day Focus 4.0, brought to you by MTN, delivered valuable insights on what the Fourth Industrial Revolution would mean for South Africa and the 1.2 billion people living on the African continent.  The event took place at the Kyalami Grand Prix Circuit & International Convention Centre on 3 March 2020.
Presented on behalf of Business Day by Arena Events – a division of Arena Holdings, and Cold Press Media, the conference gave delegates an opportunity to engage on 4IR technologies through panel discussions and presentations from SA's leading minds, as well as experiential activations at the exhibition.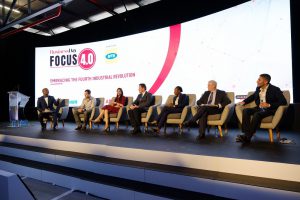 From left to right: Dominic Gaobepe, Assaf Luxembourg (Business Development & Marketing Professional), Dr Tashmia Ismail-Saville (CEO, Youth Employment Service (YES)), Marius Oosthuizen (Global Futurist), Tumelo Seaketso (Organisation Transformation & Talent Director, Deloitte), Prof José Casado Suarez (Professor: School of Human Sciences & Technology, IE University) and Martin Pienaar (COO, Mindworx Consulting).
Taryn Westoby, head of Arena Events says the support Business Day Focus 4.0 received meant that a larger venue to accommodate delegates and exhibitors had to be arranged as soon as the event was publicised in September 2019. "The credibility of the Business Day title ensured that the highest calibre speakers were drawn to participate, which attracted partners and exhibitors who would reach a captive, highly-engaged audience of delegates.  We were overwhelmed by how well the 4IR programme was received, but also privileged to bring the industry an event with quality content that is in such high demand by business leaders in SA," says Westoby.
50 companies partnered with Business Day Focus 4.0
19 brands participated in the exhibition.
298 delegates comprising CEO's, COO's, directors, managers and department heads attended.
Nompilo Morafo, Group Executive for Corporate Affairs at MTN – the headline partner for the event – said: "MTN is proud to have supported the Business Day Focus 4.0 conference, an essential and significant platform for organisations that understand the shared value that these discussions create as an enabler for digital progression across Africa. Digital and financial inclusion are at the forefront of our business strategy across our footprint, through the promotion of fintech and digital services. We are certain that the telecoms industry has a significant role to play in enabling 4IR on the continent. According to the World Economic Forum, the telecoms ecosystem has provided the fundamental building blocks that are enabling this digital revolution to take place. Therefore, MTN will continue to support engagement opportunities such as the Business Day 4.0 conference that reinforce our ambition to ensure that everyone in the markets that we operate enjoys the benefits of a modern connected life."
Media personality and entrepreneur Andile Khumalo performed the MC duties, supported by panel moderators Dominic Gaobepe and Joanne Joseph.
Godfrey Motsa, CEO of MTN SA, spoke on the role of government and business in enabling the Fourth Industrial Revolution. Musa Kalenga, CEO and founder of Bridge Labs, asked are South African businesses ready for 4IR? CEO of Liquid Telecom SA, Reshaad Sha, highlighted the importance of connectivity and smart infrastructure as a critical component in keeping up with 4IR in his presentation on 5G and the connected business world. Accenture's Kirtan Sita, MD of Technology discussed the role of the platform economy in 4IR. A panel discussion on redefining the future of business and why organisations should embrace 4IR included ABB Southern Africa's Shiven Sukraj; The Field Institute's Alison Jacobson; Investec's Devina Maharaj; and the University of Pretoria's Professor Alex Antonites.
Focussing on business leadership in 4IR, Altron Karabina's Dave Ives stressed the importance for organisations to become smart and connected, and how automation will affect business performance and customer relations. Life Healthcare Group's Suren Govender spoke on the future of healthcare and how personalised care will be made possible by technologies such as artificial intelligence (AI).
To read more about the insights shared by the speakers at Business Day Focus 4.0, visit www.bdfocus4.co.za.
Images from Business Day Focus 4.0 can be viewed online at www.bdfocus4.co.za
Cold Press Media produced the Business Day Focus 4.0 publication for the event, which was given to each delegate at the conference and distributed in the Business Day last week. To view the digital version of the publication, please click here.
Business Day, Arena Events and Cold Press Media would like to thank the following organisations for their support:
Headline Partner: MTN Group
Platinum Partners: Liquid Telecom South Africa, University of Pretoria, ABB Group, REGENT BUSINESS SCHOOL, and Tshimologong Precinct.
Gold Partners: Investec Private Banking, MIP Holdings, Dark Fibre Africa, Wits Business School, McDonald's SA, Life Healthcare Group, Deloitte Consulting, Exxaro, Johannesburg Business School (JBS), Altron Karabina, SCiBOTRON, IE University, Henley & Partners, BCX, Henley Business School, and Little Green Number.
Silver Partners: Pragma, Commerce Quest South Africa (Pty) Limited (CQSA), University of Johannesburg, Redshift Cyber Security, DHL Express South Africa, Etion South Africa, Thusano Group, Apex BI, Barloworld Logistics, Milpark Business School, Rikatec, Afrox, Petromarine, FlowCentric Mining, CZ Electronics, Lesedi Nuclear Services, Innovo Networks, IronTree, Ukwazi Operations, Interwaste, Webber Wentzel, Chrono-Logic Solutions, Cranefield College, Visa, Symbiotics, Quill Condition Monitoring, and Nexio.
-ends-
About Arena Events
Arena Events draws on the editorial expertise and media-powerhouse advantage of Arena Holdings to deliver stimulating and engaging encounters that encourage excellence across South Africa's various industries. Aligned to the thought-leadership of Arena's prominent platforms like the Sunday Times, Financial Mail, Business Day, Sowetan, Business Day TV, The Home Channel and Ignition TV, we are committed to facilitating events that nurture the socio-economic success of our country. Our leading industry events include the Sunday Times Top 100 Companies, Sunday Times The Directors Event, Standard Bank SME Summit, Absa Business Day Supplier Development Awards, The Radio Awards, Sunday Times Gen Next, Sunday Times Top Brands, the Future of Media Conference, MOST Awards, and a host of bespoke events for our clients. www.arenaevents.africa
About MTN
Launched in 1994, the MTN Group is a leading emerging market operator with a clear vision to lead the delivery of a bold new digital world to our 244 million customers in 21 countries in Africa and the Middle East. We are inspired by our belief that everyone deserves the benefits of a modern connected life. The MTN Group is listed on the JSE Securities Exchange in South Africa under the share code "MTN". We are pursuing our BRIGHT strategy with a major focus on growth in data, fintech and digital businesses.
Issued by:            Samantha Pugh, Pugh Public Relations & Corporate Communications
e: sam@pughpr.co.za   c:  071 874 5460
On behalf of:      Taryn Westoby, Head of Arena Events, a division of Arena Holdings
Samantha Pugh
Pugh Public Relations & Corporate Communications
c:  +27 (0)71 874 5460
Cape Town, South Africa