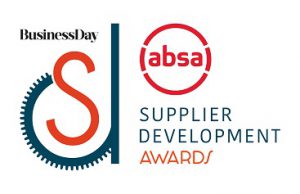 Johannesburg, 27 July 2020: Finalists of the third 3rd annual Absa Business Day Supplier Development Awards have been announced.  The Awards – presented in partnership with Absa, as well as Fetola, Cold Press Media, and Arena Holdings – showcase supplier development best practice, and are essential for celebrating the efforts of large South African companies who have committed themselves to building inclusive and transformed supply chains that thrive.
"Whilst times are challenging, supplier development presents a golden opportunity to develop resilience in supply chains and strengthen ecosystems, " says Vusi Fele, Chief Procurement Officer of Absa, the sponsors of the Awards. "For this reason, it is critical we build partnerships between the public and private sector as well as with corporates and small suppliers, and use platforms like the Awards to build a collaborative ecosystem that will deliver long-term benefits for all".
 "The quality of the submissions this year was superb. Many of the finalists display a true commitment to a supplier development strategy that aims to bolster long term competitive advantage through greater small supplier resilience and improved efficiencies," says Catherine Wijnberg, CEO of Fetola and member of the adjudication panel. "Even in the face of the Covid-19 crisis, participants' commitment to strengthening our local ecosystem with meaningful collaboration is evident!"
 The 2020 finalists (audited by BDO South Africa), in alphabetical order, are:
Wijnberg is joined on the adjudication panel by selected role-players in SME growth from the Corporate and Government sectors:  
Desigan Chetty: Chief Operating Officer, Property Point: A Growthpoint Initiative

Sekai Chiwandamira: Regional Chapter Manager, ANDE

Vusi Fele (Chief Procurement Officer, Absa Group Limited)

Nosipho Khonkwane: STP –  Executive Manager, SEDA

David McGluwa: Head- Small Business Finance and Regions IDC

Dr. Rethabile Melamu: General Manager-Green Economy, The Innovation Hub

Mamosa Motjope: Managing Director, Wamobu Consulting

Sebastian Musendo: Head -Supply Chain Strategy & Transformation, Transnet

Karen Nadasen: Chairperson of EFSA, CEO PayU

Christoff Oosthuysen: Business Development  and Enterprise Development specialist, The EPI

Michal Pillay: Supplier Diversity, Absa Group Limited

Nicola Robins: Co-founder and Director, Incite   
Winners of the Absa Business Day Supplier Development Awards will be celebrated in a digital announcement on 9 September 2020. The following awards will be announced:
The Newcomer Award – for a new strategic Supplier Development programme or project, that has shown merit in design thinking, innovation and commitment to growth.
Youth Development Award – for exceptional results in supporting youth suppliers.
 Black Women Development Award – for exceptional results in supporting Black women suppliers.
 Rural and Township Development Award – for exceptional results in supporting Rural & Township-based suppliers.
 Skills of the Future (4IR) Award – for exceptional results in supporting suppliers with leading edge, scarce 4IR skills.
 Local Manufacturing Award – for local South African manufacturers or value-add services and products with import-substitution and/or export potential.
 Collaboration Award – for strategic action to develop industry relationships and foster cross-sector collaboration for the benefit of the wider ecosystem.
 Small Supplier Award – for a small supplier, nominated by their corporate Supplier Development partner that has excelled in accelerating their own, and their client's success.
 Impact Award – for a company whose Supplier Development initiatives have substantially impacted the value chain.
 Overall Winner – a discretionary award for the company that stands out as the leader in the Supplier Development in South Africa and will be an ambassador for the Awards in 2020
 The Awards will be preceded by a series of free digitised events with the finalists, geared towards supply chain and supplier development professionals on 1 September, 2 September, and 3 September 2020.
 For more information:  www.sdawards.co.za  Follow on Facebook and Twitter: @BDSupplierDev
 -ends-
 About Arena Events 
Arena Events draws on the editorial expertise and media-powerhouse advantage of Arena Holdings to deliver stimulating and engaging encounters that encourage excellence across South Africa's various industries. Aligned to the thought-leadership of Arena's prominent platforms like the Sunday Times, Financial Mail, Business Day, Sowetan, Business Day TV, The Home Channel and Ignition TV, we are committed to facilitating events that nurture the socio-economic success of our country. Our leading industry events include the Sunday Times Top 100 Companies, Sunday Times The Directors Event, SME Summit in association with Business Day TV, Absa Business Day Supplier Development Awards, The Radio Awards, Sunday Times Gen Next, Sunday Times Top Brands, the Future of Media Conference, MOST Awards, and a host of bespoke events for our clients. www.arenaevents.africa
 Issued by:               Samantha Pugh, Pugh Public Relations & Corporate Communications
                                e: sam@pughpr.co.za   c:  071 874 5460
 On behalf of:           Taryn Westoby, Head of Arena Events